Welcome to SEAL Team Wiki!
We are
currently editing
over
157
articles and
583
images and you can help by creating more!
---
This wiki was created on October 14, 2017 and is currently run by Maccifer and Frohas. It is a free, public, collaborative and interesting project for all to help create a definitive encyclopedia for the television show SEAL Team.
Featured Article
Main Cast
New to the Wiki?
Please create a login first to keep track of your contributions.
Don't be afraid editing a page. Admins are around to correct possible mistakes.
If you have questions about the wiki or editing, you can ask them to Frohas. She'll be happy to help you!
If you have a comment or a question about an article, feel free to bring up on the article's talk page (click on the talk page button next to the edit button at the top of the page). Other users will try to respond as soon as possible.
Please note not to upload strongly edited photos to the articles. Feel free to upload them to your userpage though.
Have fun!
Disclaimer
Please note that this site is not in any way affiliated with CBS or any other persons or organizations responsible for the production of SEAL Team. All trademarks and copyrights belong to their respective owners, and are used here under the terms of Fair Use. All images and videos © copyright of CBS.
Others
Who is your favourite main of recurring character on the show as of right now?
SEAL Team Facebook
SEAL Team Twitter
Previous Episode
No Man's Land
Season 1, Episode 15
---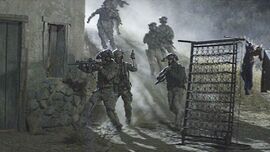 ---
Jason and the SEAL Team close in on avenging the deaths of Echo Team when they find the money that funded their murder on a nearby poppy farm that was previously used to make heroin. Also, Jason meets an intriguing woman on the base.
Next Episode
Never Get Out of the Boat
Season 1, Episode 16
---
---
Jason leads the SEAL Team on a dangerous daytime mission where Sonny is wounded and must now rely on Clay and his brothers to save his life. Also, Jason sees more of Amy, and Clay struggles with his long-distance relationship with Stella.